Hello Slough, we are NotJUST a Store…
Expanding into this region, we're a brand new store and an innovative, ethical new way to do your shopping – Waste warriors assemble!!!
Opening Times:
Opening hours will expand as more staff come on board

Monday 9:30am – 6:00pm
Tuesday 9:30am – 6:00pm
Wednesday 9:30am – 6:00pm
Thursday 9:30am – 6:00pm
Friday 9:30am – 6:00pm
Saturday 10:00am – 4:00pm  
Sunday 10:00am – 4:00pm  
Imagine a charity shop that was not clothes, but food instead!! That's us.
Store Number 07726 305853. Facebook Page
To donate food as a supplier text 07768 656973 for a call back.
This is a fundraising community store for our non-profit NotJUST (International) CIC. We work with distributors all over the UK that end up with food and items that are past best before and surplus, and save it from landfill in bulk. The food is then sorted into our food banks, sharing with smaller community groups, and going into stores like this!
This store is a social supermarket that is open to every member of the public: no membership required. A lot of our food is past its best before, and a lot of our food and items are sold at a discounted price. We also have some items 'available for a donation', where you can choose how much you wish to donate. It's entirely up to you, but the more you donate, the more people in crisis we can help. We also run a community fridge, filled with goodies also available for a donation.
We are tied in with the Slough Poverty Forum, and people in severe crisis are referred to us by outreach projects. Thanks to your donations we can ensure they won't leave our store hungry. 
We are open to everyone and need everyone to shop here to help us save as much from landfill as possible. 
Community Fridge Brief Outline:
This fridge is filled with surplus and short dated chilled stock that our project has saved. It is open for everyone to use, and the more people who use it, the more food we can save from landfill. Each individual item in the fridge is available for a donation of your choosing, and the donation covers the cost of our fuel to save the food. Community groups are welcome to collect from us for free. Click here for the rule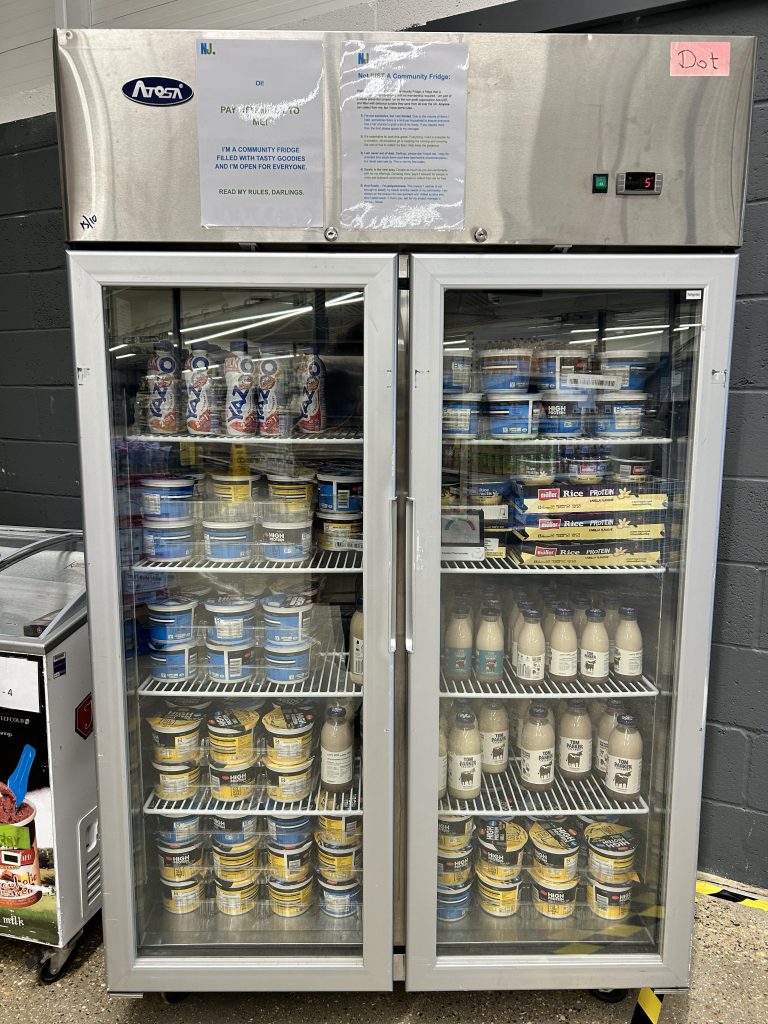 Information For Community Groups:
Hi! We are here to help bridge gaps in communities and support pre-existing projects 🙂
We do this by: accepting referrals of clients in severe crises, donating surplus stock donated to us (e.g. hand sanitiser, community fridge stock, porridge oats), and sharing space at the top of our building.
Client referrals: If a client is not yet being supported by the food bank, they can refer to us so we can ensure they don't leave hungry. We can also help clients back on to the ladder of food independence with our stock that requires a donation, and with our discounted food. 
Donating surplus stock: we often come into pallets of the same stock, which other community groups are welcome to collect from. If you're collecting from our fridge, please ensure that you bring a chilled bag with you.
Sharing space: At the top of our building are 4 bays available to share with other community groups. If you're interested please email andover@not-just.org.uk . All groups must be responsible for their own waste, join our cleaning rota, and agree to contribute £50 pcm to the running of the project. You are welcome to put your own A-Board outside and put your own signage in the glass at the top of our building.
If you would like to get involved with any of these, please pop in store and speak to the manager.